As For My House will be hosting the Carnival of Homeschooling again next week.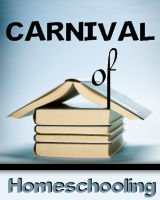 If you blog, I hope you will join is by submitting a post:
Something old, something new… I do have to draw the line at "something borrowed" though!
It doesn't require a "blog about homeschooling" – only a post that's "on topic."
In the past, the COH has used the Blog Carnival submission form, but that has not been working properly for the last few months. As a result, they are requesting that all submissions be sent to the carnival's GMail email address, which is forwarded to each week's host in turn.
Submissions are due to CarnivalOfHomeschooling@gmail.com by 6:00 PM (PST) by Sunday evening. It will be greatly appreciated if the submissions come in earlier. Please send the following information:
Title of Post
URL of Post
Name of Blog
URL of Blog
Brief summary of the post
(With "carnival" or "submission" in the subject field of the email.)
More details about the carnival, and submissions, are always available from the good folks who run the carnival, "Why Homeschool".
If you know anyone else who blogs homeschool, please spread the word!!
To help spread the word about the carnival, and get more readers for all of our terrific contributors, you are encouraged to include one of the following icons/links in your submitted post:
Thanks for joining the fun!